12/26/09 Outing to Leavenworth and Camp Serendipity (our log home)
On the day after Christmas, Paul, Ellen, Almitra, Ocean, and Tianna had a great two-day winter outing. We drove to the 59er Diner where we had lunch, then Lake Wenatchee State Park where we surveyed the sledding hill after learning that it was not groomed due to no new snow. We proceeded on to Camp Serendipity (our log home near Lake wenatchee) and found that the driveways worked pretty well for sledding. The girls had a good time sledding right there. You can get a pretty good idea from this video and from this one
We moved our gear in the cabin and started a fire in the stove. We wanted to warm the place up a little while we drove on to visit Leavenworth. In Leavenworth, we visited stores, looked at lights, had dinner at Los Camperos, rode in a horse-drawn carriage, and did some more sledding.
When we got back to Camp Serendipity, we started the fire back up from the embers. It was well below freezing outside. Paul had a big stack of maple firewood on the back porch and he kept stoking the fire in the stove every hour or two all night long. Even so, everyone was pretty cold during the night. The temperature outside was 14 degrees when we finally got up sometime after 8:00.
We learned a lot, however, about how to keep warmer the next time. And, of course, when the cabin is finally insulated and a proper heating system is installed, we won't have those problems.
All in all, we had a good time. The kids experienced many new things that they should remember for quite awhile. Here are some pictures from the outing: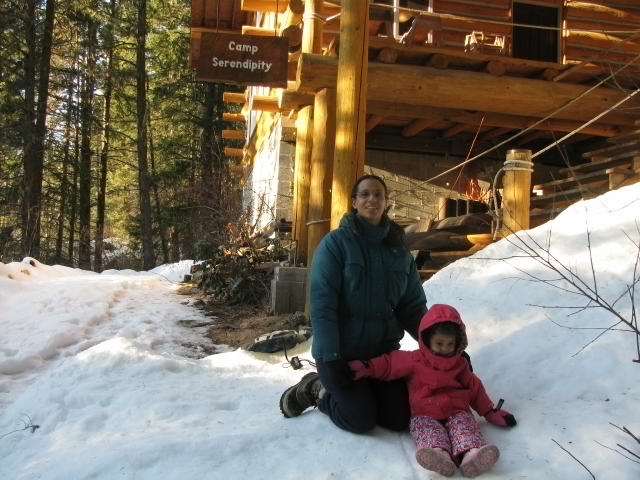 Here are Almitra and Ocean under the "Camp Serendipity" sign.
---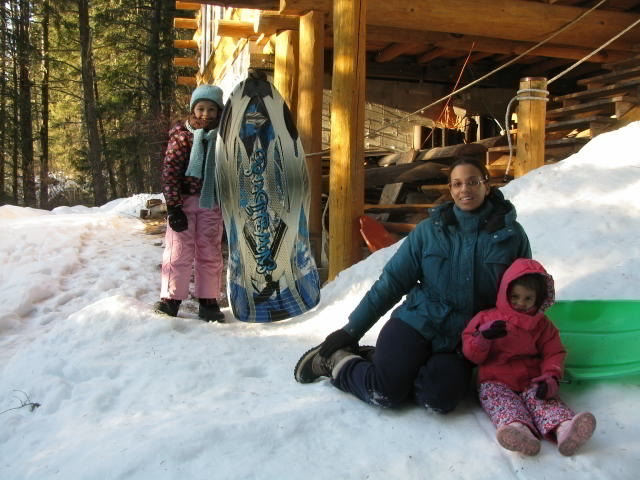 Tianna, Almitra, and Ocean getting ready to sled down the upper roadway.
---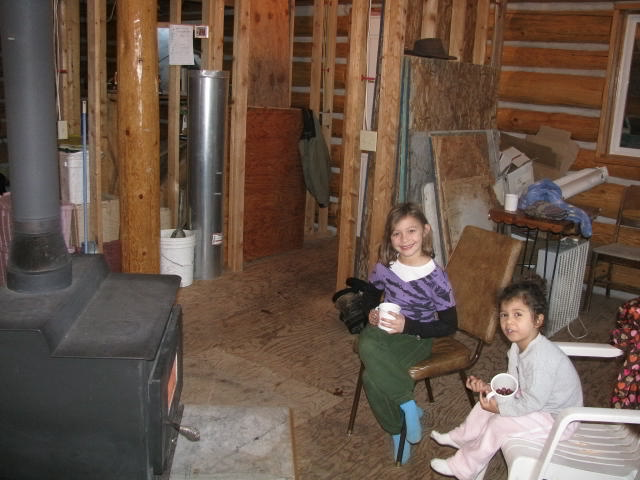 Tianna and Ocean warming up by the stove inside the cabin.
---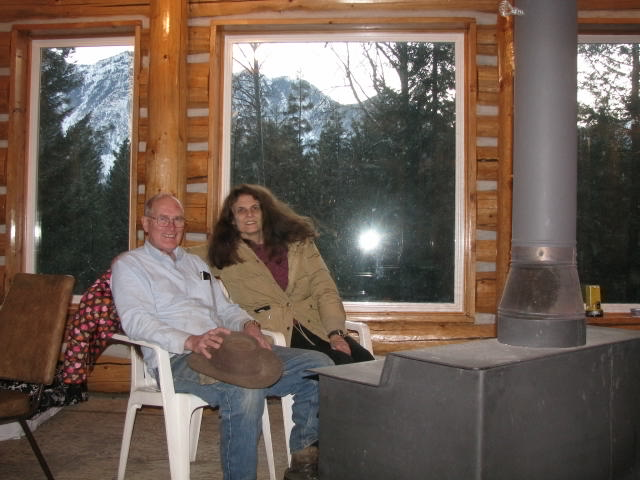 Paul and Ellen relaxing in front of the fire.
---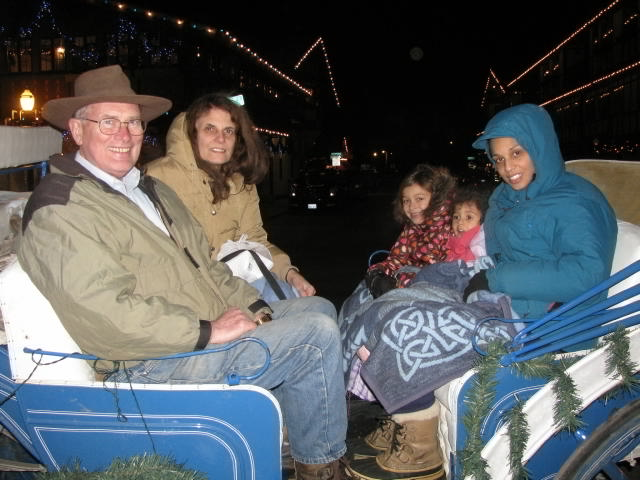 All five of us taking a ride in a horse-drawn carriage in Leavenworth.
---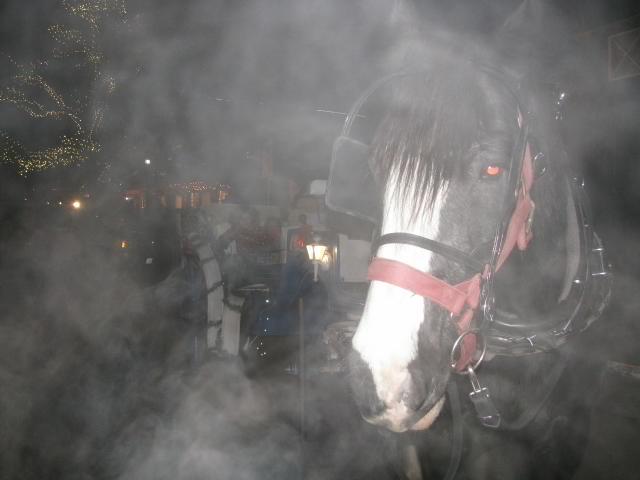 This is Buddy, the Clydesdale who pulled our carriage. You can sure see his breath in the cold air.
---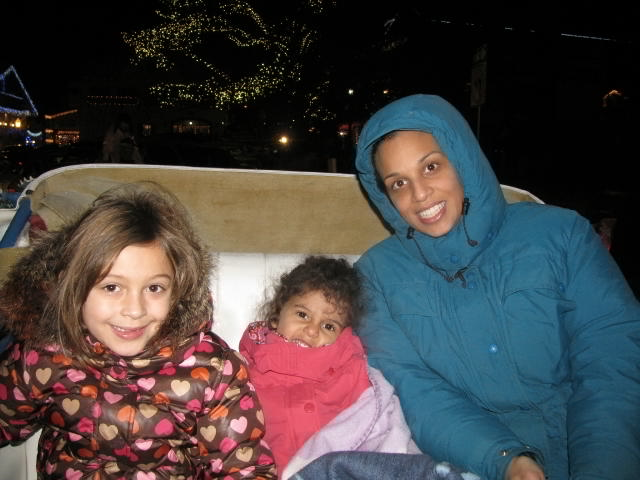 Tianna, Ocean, and Almitra in the carriage ready to ride.
---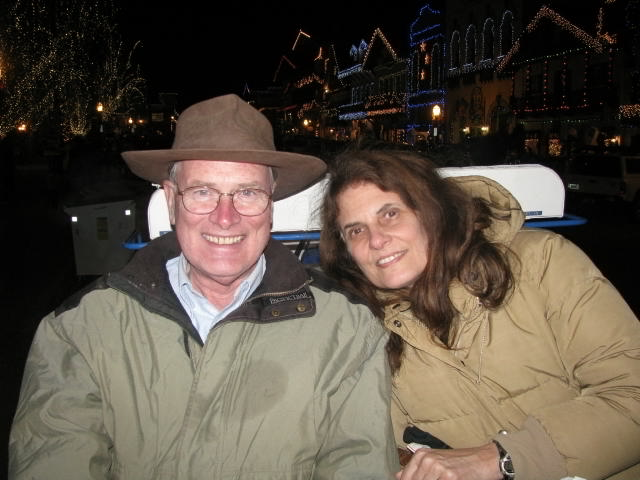 Paul and Ellen in the carriage.
---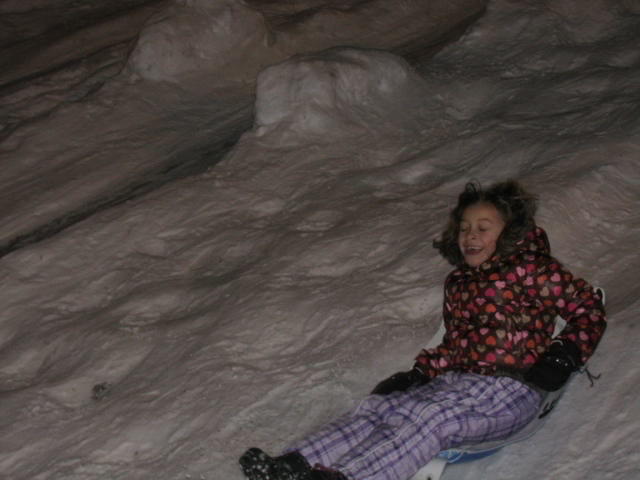 Tianna sliding down the hill in Leavenworth. The snow was old and frozen so it was stiff, bumpy, and fast.
---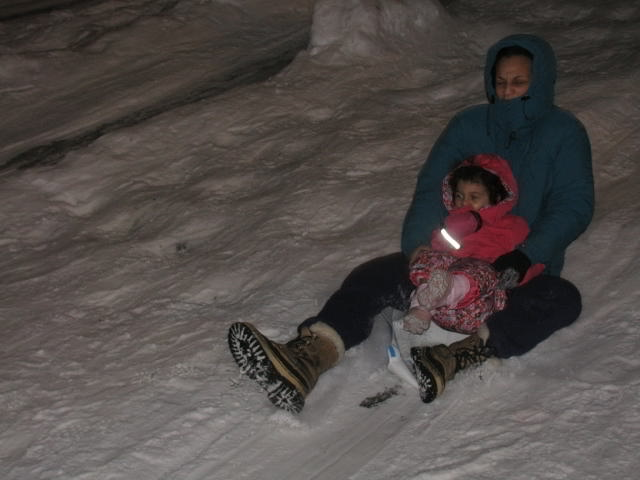 Almitra and Ocean sliding down the same hill.
---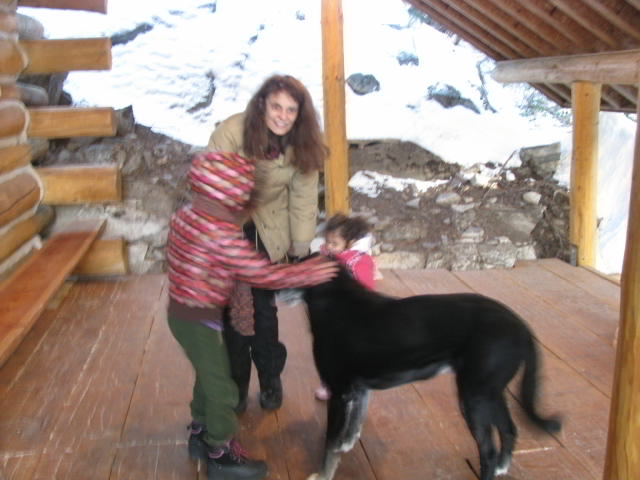 Tianna, Ellen and Ocean feeding and petting Bert back at Camp Serendipity. Bert and Ernie are the neighbors' big lovable dogs.
---
©2009 Paul R. Martin, All rights reserved.