Log Home Pictures from 1992

To view the next, or the previous set of pictures in order. . . . . . . . . . . . . . . . . . . . . . . . . . . . .use these links: next prev

Other years: 1991 1992 1993 1994 1995 1996 1997 1998 1999 2000 2001 2002 2003 2004 2005 2006 2007 2008 2009 2010 2011 2012 2013 2014 2015 2016 2017
---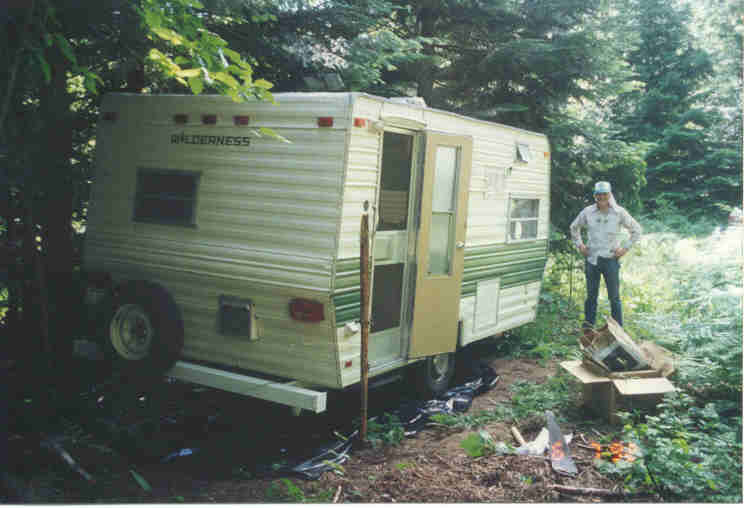 The major projects for 1992 were road building and installing the trailer with a protective roof. Here the trailer is in its final location. I have a handkerchief tucked in my hat to prevent sunburn.
---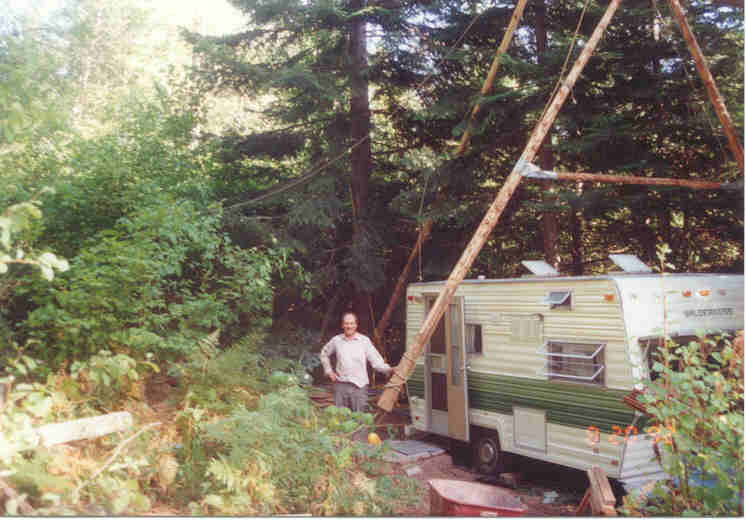 This is the start of bulding the snowshed roof over the trailer. Each "A" frame was assembled on the ground and then lifted over the trailer using a crane I built. The crane boom is the 32 foot log seen going up to the right from my left shoulder. The boom is fastened to the bottom of the big tree right behind me. The top of the boom is fastened to a block and tackle attached 32 feet up in that tree. The "A" frame is dangling over the trailer hanging from the end of the boom. By carefully pulling and relaxing ropes, the "A" was moved to its position at the near end of the trailer.
---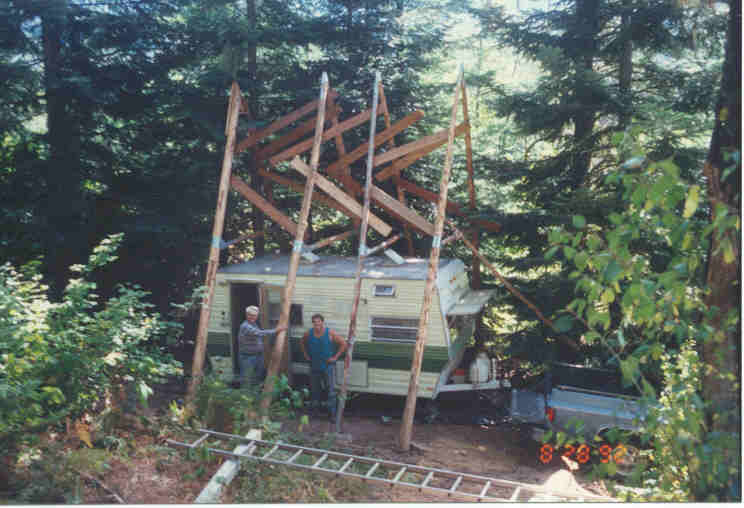 All four "A" frames are in place and braced, ready for the corrugated metal roofing. Bob Burton and Dave Martin helped me install the last two "A"s.
---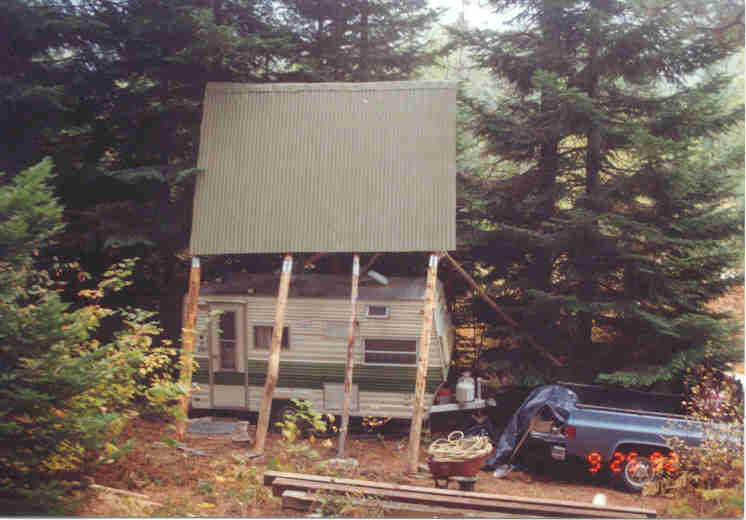 The corrugated metal is on. The ridge metal is on and painted. Its ready for snow.
---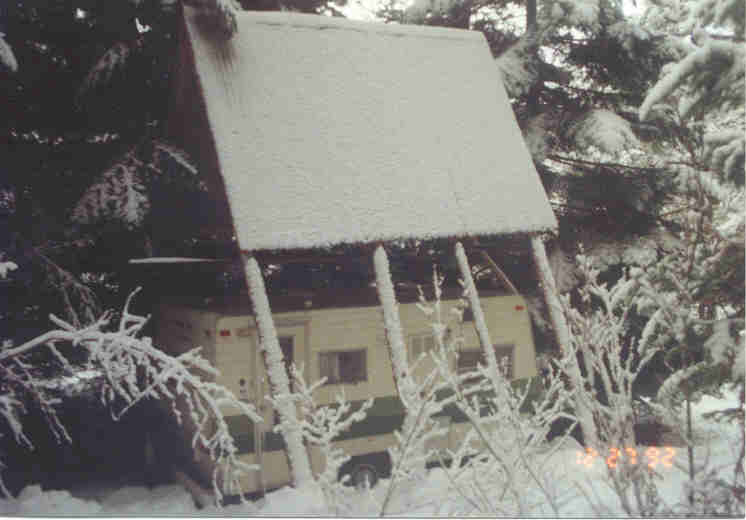 The first snow on the snowshed roof.
---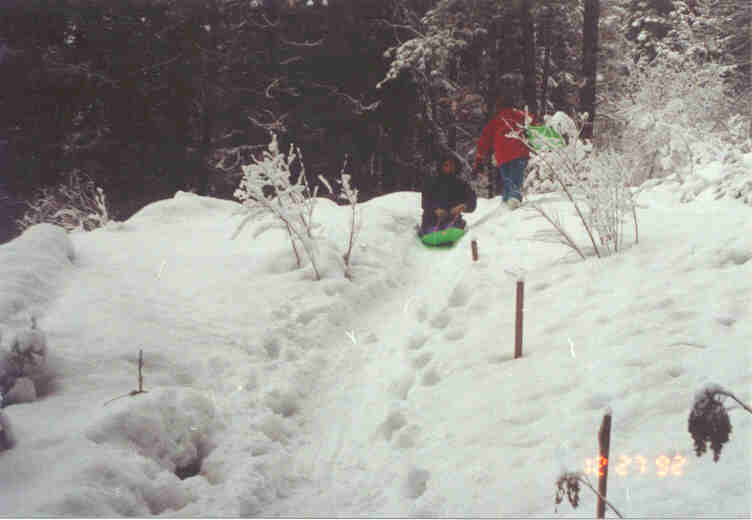 Ellen and kids sliding down the roadway past grade stakes. The building site is directly behind them.
---
We spotted an animal crossing the road. These are his tracks.
---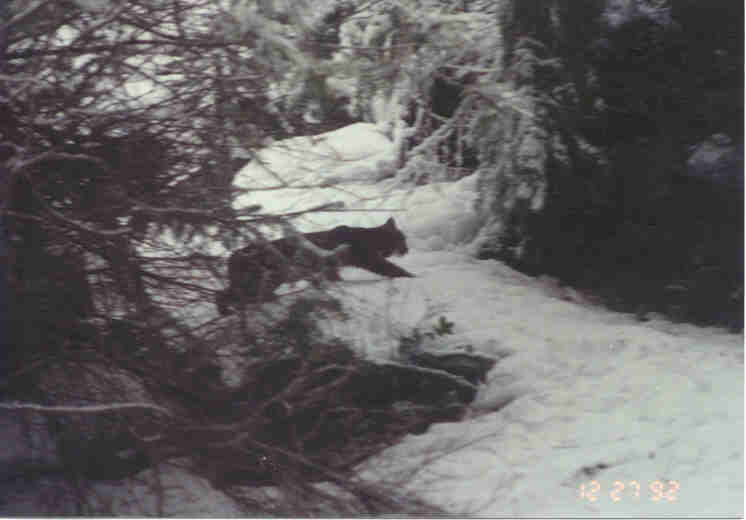 We looked up the hill and saw who made them: This bobcat.
---
To view the next, or the previous set of pictures in order. . . . . . . . . . . . . . . . . . . . . . . . . . . . .use these links: next prev


Pictures from other years: 1991 1992 1993 1994 1995 1996 1997 1998 1999 2000 2001 2002 2003 2004 2005 2006 2007 2008 2009 2010 2011 2012 2013 2014 2015 2016 2017

©2003-2017 Paul R. Martin, All rights reserved.