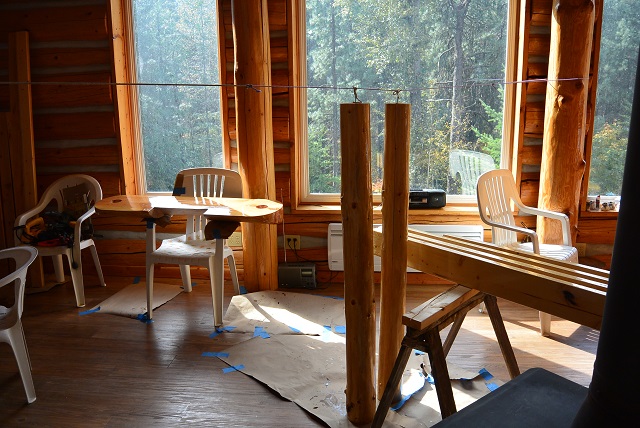 10/13/19 Here you see the new tread, notched, bored, and varnished ready to dry while I am gone. The two newel posts, standing vertically and tethered by the cord tied to the RPSL, and also four 2x6s that will form the tops of railings, have also been varnished and are starting to dry.
---
10/26/19 After having my lunch and a nap, I noticed the hearing aid was gone and I knew it had to be up among the sawdust where I had bucked up the maple log. After about an hour's tedious search, I found it right about at the center of this picture. I had carefully brushed away the sawdust one square inch at a time, starting way beyond the left of this picture, using a one-bristle brush, which you see lying just to the right of the center of the picture. On the left of the center, you can see where the sawdust has been brushed away, and on the right is the sawdust as it looked before I brushed it away. I felt elated to have found that thing. A great example of serendipity.
---
©2022 Paul R. Martin, All rights reserved.