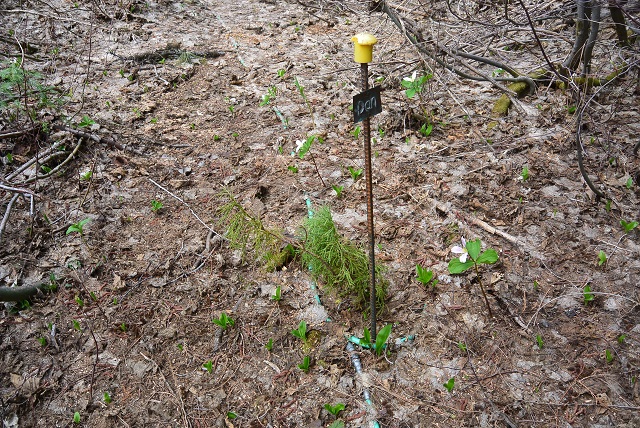 4/28/21 Dan. This tree might have a congenital problem because it can't seem to decide which of its branches should become the main trunk. Instead, branches will shoot out the side and get long, while the rest of the tree gets bushy but doesn't seem to establish a trunk. If I were an arborist I might know whether and how to do something about it, but I am not so I won't.
That is the end of the sequoia photo gallery.
---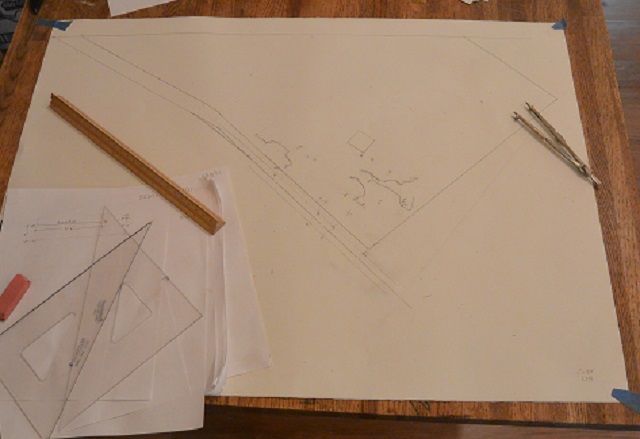 7/27/21 For 30 years I have wanted a reasonably detailed topographic map of the Camp Serendipity property. The best government maps have 200-ft contour intervals so they show only one contour line running through the property. That is hardly enough. I thought of, and tried, many approaches to getting a good topographic map, all of which ended in frustration and no map. Early this year, in the aftermath of one of those failures, I decided to draw a map of my own by hand. I used the data from the official survey map that came with the property to draw the property boundary and the road. Then I figured out ways of fixing points on the ground which I could then site on my drawing by measuring distances between points on the ground, and striking intersecting arcs with a compass on my drawing. It is a little tedious, but it works. I will continue these methods during whatever seasons of the year give me access to points on the ground until I complete the map. This picture shows the status of the map so far including the siting of the cabin foundation on the map. That is a huge milestone and I decided to commemorate the event with this picture. In addition to the cabin, the map shows portions of four contour lines on 5-foot intervals that march up the driveway toward the cabin starting at the road.
---
©2021-2022 Paul R. Martin, All rights reserved.